World Food Day 2017
Celebrating the creation of the Food and Agriculture Organization (FAO), events are organized in over 150 countries across the world, making it one of the most celebrated days of the UN calendar.Large movements of people today are presenting complex challenges, which call for global action. Many migrants arrive in developing countries, creating tensions where resources are already scarce, but the majority, about 763 million, move within their own countries rather than abroad.
Here are some facts about World Food Day is celebrated every year around the world on 16 October in honour of the date of the founding of the Food and Agriculture Organization of the United Nations in 1945. The day is celebrated widely by many other organizations concerned with food security, including the World Food Programme and the International Fund for Agricultural Development.
The World Food Day theme for 2014 was Family Farming: "Feeding the world, caring for the earth"; in 2015 it was "Social Protection and Agriculture: Breaking the Cycle of Rural Poverty"; in 2016 it is Climate Change.
World Food Day of action against hunger. on Oct 16 people around the world come together to declare their commitment to eradicating hunger in our lifetime.                   World Food Day was adopted by the United Nation General Assembly in 1980 to celebrates the celebration of food and agricultural organization (FAO).This year theme of World Food Day is"climate is changing. food and agriculture must too"
FAO is calling on countries to address food and Agriculture in their climate action planes and invest more in rural development. over 150 countries celebrate World Food Day. Many hungry people live in countries with food surpluses, not food shortages. approximately 1/3 of all food produced worldwide, about $1 Trillion dollars worth, is wasted.
one in eight people in the world today are undernourished. Female farmers have the potential to pull 150 million people out of hunger. Asia is the continent with the most hungry people around 2/3 of the total. every 5 seconds, a child dies of a hunger-related disease. 1/3 of the food produced around the world is never consumed. according to the global hunger index, 52 countries are suffering from  "serious" OR "alarming" levels of hunger. nearly 1 billion people will go to bed hungry tonight.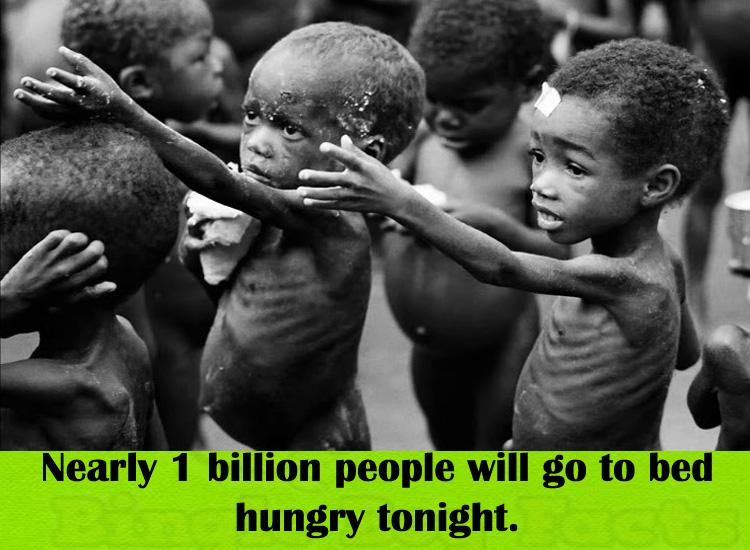 hunger kills more people each year than AiDS, malaria and TUBERCULOSIS combined. 60% of the hungry in the world are women. According to the world food programme, one person in four in the African continent is undernourished. By 2050, climate change could have pushed another 24 million children into hunger.
today on the positive side, the number of the people living with chronic hunger has fallen by 17 percent.
Ways to improve global food security
1. CLOSE THE YIELD GAP
2. Use fertilizer more efficiently
3. Raise low water productivity
4. Target food for direct consumption
5. Reduce food waste.
How to Reduce Food waste
Shop smart and realistically. …
When cooking, don't over-serve food. …
Save – and actually eat – leftovers. …
Store food in the right places. …
Avoid clutter in your fridge, pantry and freezer. …
Treat expiration and sell-by dates as guidelines. …
Keep track of what you throw away. …
Donate to food banks and farms.
make use of limit
eat more waste less.
These are the 10 steps for How to Reduce Food waste.